Hope this finds you all well and happy! We are enjoying seeing so many of you coming in to Savour today. All local businesses need your support at this time, and we espceially appreciate our great Savour customers.
Don't forget that we are still making our comforting, highly nutritious and very delicious bone-broth - which is just like a dose of Gramdma's chicken soup. (No better home remedy for what ails you)! We vacuum seal it and freeze it the same day, so it is always fresh and ready for you when you need it. We have a freezer full, so pick up some for yourself and grab some for a neighbor or friend that might need a little support.
______________________________________
Compimentary Tasting with Danny Giddings of Classic Wines
Saturday March 7
from 2 - 5 pm
Try out a classic sparkler and one of our favorite cabs!
(Voluntary donation taken for Pathways for Children)
Lucian Albrecht, Cremant D'Alsace Brut Rose NV, Alsace, France ~ $ 21.99
Lucien Albrecht is one of the most distinguished and long standing brands in Alsace. Regarded as a pioneer of viticulture, beginning in 1425 when Romanus Albrecht started the winery, Albrecht is responsible for many advancements and innovations in the region, such as being one of the three founding fathers of the regulated Crémant d'Alsace. "Crémant" is the French term for traditional-method sparkling wines made outside Champagne. This means that the second fermentation, which gives the wine its bubbles, must happen inside the bottle. That's followed by a minimum aging period of nine months on spent yeast cells, or lees, giving the wines their creamy texture. Albrecht's goal is to always "respect the grapes" and to respect nature, believing Alsace is truly one of the most versatile and exciting white wine producing regions in the world. Along with strawberry and red raspberry fruit suggestions that are enhanced by the wine's discreet hint of sweetness, there are saline, meaty, and herbal notes to add interest to both the nose and a lush palate, and the hints of salinity and bitterness in the finish make for an invigorating complement to the wine's prominent fruit.
This is a tried and true classic! Lucien Albrecht is one of the most distinguished and long standing brands in Alsace. Regarded as a pioneer of viticulture, beginning in 1425 when Romanus Albrecht started the winery. Albrecht believes Alsace is truly one of the most versatile and exciting wine producing regions in the world and looks to share their unique terroir through their outstanding wines. In the early 70's, Lucien Albrecht was one of the three founding fathers of the regulated Crémant d'Alsace. In 2004, Lucien Albrecht Crémants made history. At the 14° Concours National des Crémants de France (Crémant Wine Challenge), they stole the show, winning an unprecedented Four Gold Medals.
At $21.99, a wine made from 100% Pinot Noir, whole cluster pressed, hand-harvested grapes, vinified in the laborious champagne method, with the secondary fermentation in the bottle, is absolutely remarkable. Anytime you need a gorgeous sparkling rosé that stands up to many champagnes 4 times the price, this is it! (90 pts - The Wine Enthusiast)
Freak Show Chardonnay, 2018, Lodi, CA - $19.99
"Step right up and marvel at the wonders of Freakshow Chardonnay! This Goddess of the Sea has been scouring the ocean depths and tempting pirates and sailors alike for centuries, and now she has joined our show. The 4th act in our menagerie of Freaks is none other than the daughter of Poseidon, or 'Madison' as we have come to know her. The grapes are sourced from the Phillips family's vineyard here in Lodi and are certified sustainable, making this Chardonnay the perfect addition to your table and our Freakshow family.
Approachable, flirty and fun loving, our Freakshow Chardonnay is fruit forward and crisp, with mouthwatering aromas of juicy mango, summer stone fruit, cinnamon spice and buttered popcorn. Enchanting flavors of nectarine, stewed Golden Delicious apples, butterscotch, hickory and a hint of vanilla and coconut on the finish." (Winemakers)




Valckenberg gewürztraminer, 2018, Pflaz, Germany - $14.99

For over 230 years P.J. Valckenberg has discovered extraordinary German Estates

and has acted as an ambassador of their wines. From the beginning, P.J. Valckenberg

remains an owner- operated company with immense passion.

Valckenberg Gewurztraminer, made from 100% Gewurztraminer grapes grown in the Pfalz region of Germany, is a full-bodied, off-dry white with a lovely aroma of roses, followed by flavors of ripe peaches and litchi on the palate. The finish offers signature "gewürz" notes of nutmeg, cinnamon and clove. Perfect with patés, hearty cheeses or a fruity dessert. Delicious simply on its own. Known for its exceptional pairing with all Asian food, from Thai green curry to Japanese sushi with wasabi, this is a unique German white. Unlike the Alsatian Gewurztraminers, it is lighter and more acidic and carries a remarkable price tag of $14.99. It is also one of the great wines of the world for pairing with cheese, especially sheep's milk, such as Lamb Chopper. Pick up both today at Savour!



Amancaya Cabernet/ Malbec, 2017, Mendoza, Argentina - $19.99
67% Malbec, 33% Cabernet Sauvignon. The success of the first vintages of CARO encouraged Domaines Barons de Rothschild (Lafite) and the Catena family to create another premium wine, this time a Malbec dominated cuvée, that would nevertheless be a balance between the Bordeaux and Argentine styles. To celebrate its Andean origin, the wine was named Amancaya, after the mountain flower which grows in the Andes.
Like CARO, the grapes come from the vineyards of Vistalba, La Consulta, Agrelo, Tupungato and Tunuyan (which are all over 30 years old and situated at an altitude between 2,625 and 4,593 feet). The meticulous selection takes place in the vineyards of the Catena family as well as in the vineyards of producers with the greatest terroirs of Mendoza. The grapes were picked by hand and then sorted, destemmed and crushed before fermentation. Ageing took place for 12 months, 50% in French oak barrels and 50% in concrete vats. Deep ruby color. Intense aromas of white flowers, red cherries and figs. Juicy and complex with hints of cloves and other spices. This well-balanced wine is an elegant expression of the blend of Malbec and Cabernet Sauvignon. (94 pts. James Suckling)
Gravel Bar, Cabernet Sauvignon, 2016 Columbia Valley, WA ~ $21.99
For more than twenty centuries, torrential floodwaters from melting ice-age glaciers sculpted eastern Washington's Columbia Valley, leaving in their wake deep deposits of sandy, rocky, alluvial soils. Today, framing the Columbia River, broad plains of ancient sediment constitute one of the world's finest wine grape growing regions. This Cabernet is full bodied, with a great balance between fruit and herbal notes. It is subtle and elegant, yet concentrated and complex, with black cherry and raspberry, currant, plum and mocha, with hints of fennel and mint. Full and structured tannins hold it all together. Gravel Bar is one of my all-time favorite cabs and delivers exceptional value for the price.
----------------------------------
Next Wine Seminar
Tasting the Wines of Portugal
with Augusto Gabriel
Tuesday, March 10 (new date)
6 - 8 pm
photo courtesy of Google search
Join the native Portuguese wine expert, Augusto Gabriel, on a wine-tasting tour around the major wine regions of Portugal, from Lisboa to the Douro. We will start with cheese, charcuterie and appetizers, and head right into tasting some of the most delicious (and best value) Portuguese wines avaialble. $40.00 per person (2 for $70.00) with 10% discount on all featured wines.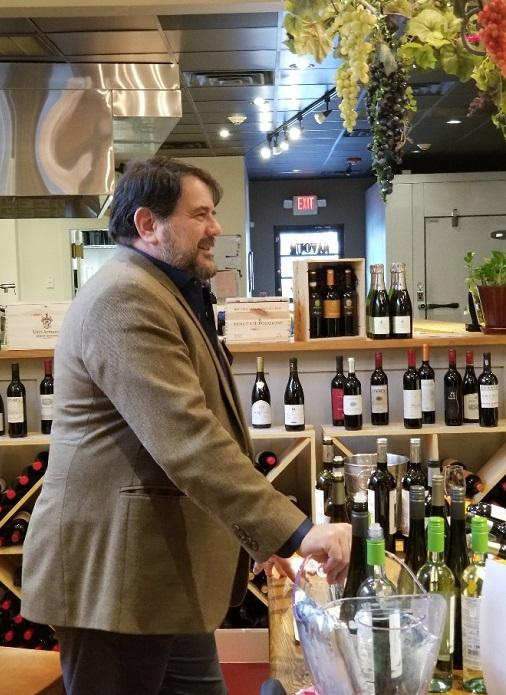 We expect this to sell out with all the great values represented and a very charmimg teacher! We are limiting this to 22 participants
Call Kathleen at 978 282-1455
-----------------------------
--
Save the Date
Grand Tasting - Sunday, March 29
1 - 5 pm
(First hour Wine Club Members Only)